About Our Primary School
St Nicholas' Primary School is a co-educational Primary School with a long tradition of serving the youth of Galway. It is located in the heart of Galway City in Waterside, Woodquay. It is situated beside the Town Hall Theatre and is within close walking distance of the university (NUIG) and the hospital (UHG).
Due to the central location of our Galway City Primary School, our pupils have the opportunity to attend many different educational events within the city. The children regularly visit The Town Hall Theatre, Dubray Book Shop, The Black Box Theatre, The Galway City Museum, The City Library, Woodquay Park, The Plots (football pitch), The University, The Hospital and many other locations of interest.
Our school also offers a wide range of extra-curricular activities such as Swimming, Hockey, Drama, Chinese, French, Zumba, Ladybirds, Brownies, Music and Yoga.
Pupils attending St. Nicholas' have access to an After-School Facility.
Preparation classes for First Holy Communion and Confirmation are also available after school.
The majority of the sixth class pupils transfer to local secondary schools in the Galway area.
Park 'n' Stride
Park'n'Stride works by encouraging parents to park in nearby designated car parks free of charge.
Learn More
What's Happening?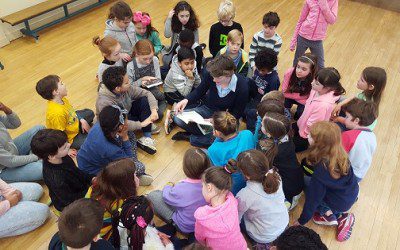 Marguerite arrived this morning at 9.15. The children spent one whole hour with her as she sat in the centre of the circle and read excerpts from her books; Kapheus Earth, Kapheus Air and Kapheus Water. You could hear a pin drop as everyone listened with pure intrigue... read more