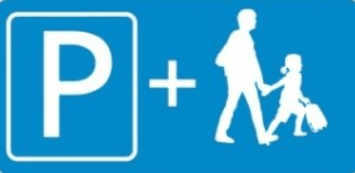 Park'n'Stride works by encouraging parents to park in nearby designated car parks free of charge (where charges normally apply) for a short period of time, while they walk their children to school.
By supporting Park'n'Stride, you and your children will be playing a part in alleviating traffic congestion outside the school, which in turn will help to make trips to and from school safer for everyone.
Parents wishing to become involved in the scheme just need to complete a registration form which is available at www.galwaycity.ie/park-n-stride
Once completed, you will be issued with a Park'n'Stride sticker to display on the front windshield of your car. This sticker will allow you to park your car in one of the nearby designated car parks.
Please note that each of the designated car parks also act as Drop'n'Hop locations for older children who are capable of independent travel to school i.e. parents can simply drop off/collect their children at these designated car parks.
The designated car parks for our school are:
Woodquay Car Park
Dyke Road Car Park
Cathedral Car Park